Jugend­-Gitarrenorchester Baden-­Württemberg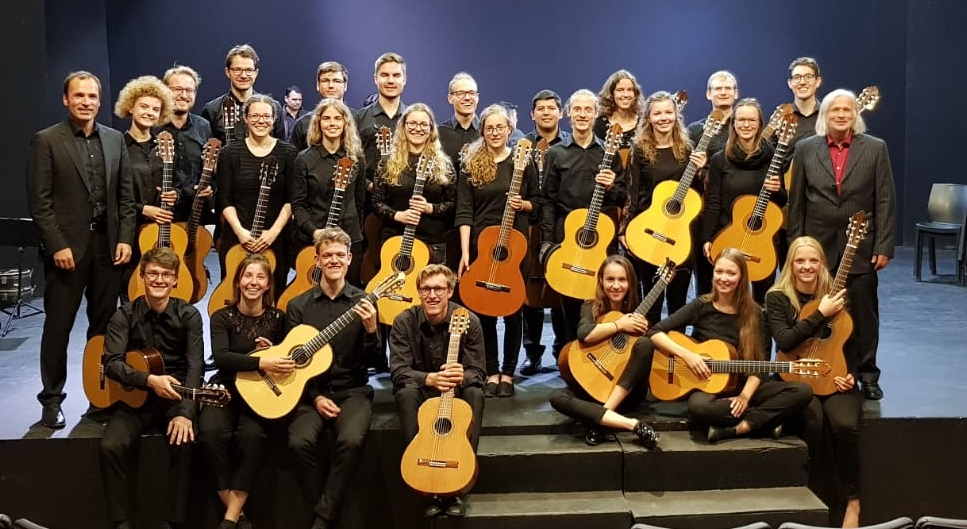 The Youth Guitar Orchestra Baden­Württemberg (JGO) has been uniting young guitarists from all over Germany since its foundation in 1991. The musicians are mostly prize win­ ners of national and international music competitions, such as "Jugend musiziert" (Youth Makes Music). Several times a year, they come together with the two conductors Helmut Oesterreich and Christian Wernicke for concerts, rehearsal periods, concert tours, as well as video and audio recordings.
Since its establishment, the orchestra has already developed an extensive repertoire. This includes original compositions and transcriptions from all musical eras, as well as arrangements from jazz and pop music, which are an essential part. Contemporary com­ positions, as recorded on the orchestra's CDs (most recently Rain Light Symphony), also form a focus of the repertoire. Many of these works were specially written for the JGO, for example by Terry Riley or recently Arturo Fuentes.
The orchestra's most important highlights so far include international tours. Collaborations with other orchestras, soloists, and guest conductors such as Leo Brouwer, David Tanen­ baum, Olaf Van Gonnissen, Peppino D' Agostino, and the Duo Kvaratskhelia are also among the musical highlights. Furthermore, the JGO was a guest at the EXPO 2000 in Hanover and won first prize at the competition for select orchestras in Trossingen last November.