Concerts, Artists, Prices 2021
Reservation of tickets:
Office Nuertinger Zeitung – Am Obertor 15, D-72622 Nuertingen
Phone: +49 (0)7022-9464-150
stadtbuero@ntz.de
Concert subscription: regular: 195 € | reduced: 130 €
K3N
Opening Concert: Tango, Salsa & Fandango
The string quintet musica varia ensemble provides the musical setting for exceptional soloists with sounds from different eras and regions of the world: Guitar Duo KM, Prof. Thomasz Zawierucha, Prof. Thomas Müller-Pering and Rodrigo Guzmán.
Kat. 1: 36 € | 26 €
Kat. 2: 27 € | 21 €
K3N
Matinée: Nürtingen Guitar Orchestra
The Guitar orchestra of Nuertingen, conducted by Mandy Bahle and celebrating its 20th anniversary, wants to entertain the audience with baroque, romantic and modern sounds from the world of the classic repertoire for guitar orchestras.
K3N
Family Concert
"The little Prince" – Dance theater following Saint-Exupéry's famous book.
The dancer Sophie Julie slips into the role of the little prince, the king, the idle person, etc. In addition, Roger Tristao Adao tells the story and accompanies her on the guitar. Thus, the encounters of the little prince are told in a new, very entertaining way.
Family Ticket 30 €
16 € | 10 €
K3N
Double Concert: Jeseok Bang | Judicaël Perroy
Newcomer meets etablished world-class guitarist.
At the International Guitar Competition of the Nürtinger Festspiele in 2018 Jeseok Bang was crowned the winner by the expert jury and the audience. The newcomer is followed by Judicaël Perroy, who has made a name for himself as a spirited player and successful pedagogue worldwide.
K3N
Double Concert: Zoran Dukić & Tilman Hoppstock
Zoran Dukić and Tilman Hoppstock, two first-class soloists, get together as a duo! The two great musicians and virtuoso form a perfect unity to play Bach, Scarlatti, Mertz and Piazzolla. And of course, there will be magnificent solos, too.
K3N
Bianka Szalaty
The young Polish guitarist won the Nuertingen Competition 2020 with an outstanding performance. Her great potential shows in expressive playing, paired with musical sensitivity and maturity. She also represents a young generation of outstanding guitarists of whom one can expect a lot.
K3N
Double Concert: Solo and Duo
Matthew McAllister | Duo Joncol
The Scottish guitarist plays like no other the music of his homeland. Works from his CD "Celtic Collection" will be heard in concert. On the other hand, Britta Schmitt and Spaniard Carles Guisado, who form the Duo Joncol, are dedicated to the Mediterranean sounds of the Iberian Peninsula with their own compositions and with works by Granados, De Falla and Albéniz.
K3N
Mateusz Kowalski: EuroStrings-Winner 2019
The young Polish guitarist has convinced the jury of the EuroString-Competition in London by his virtuosity and lightness. In this contest – equal to the Champions League – all contest winners of the year compete against each other.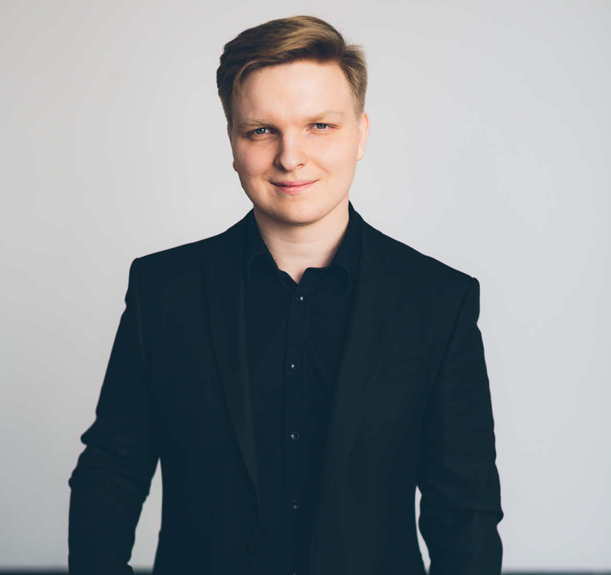 K3N
Los Angeles Guitar Quartet
Celebrated by the Nürtingen audience and the world press, the Grammy Award-winning LAGQ is the internationally most successful guitar quartet and an integral part of the Nürtingen Guitar Festival.
Kat. 1 36 € | 26 €
Kat. 2 27 € | 21 €
Kat. 3 22 € | 14 €
K3N
David Russell
As one of the most successful guitarists of our time, he has inspired several generations of guitar players and, as a regular guest in Nürtingen, he has thrilled audiences again and again.
K3N
Michael Langer
Michael Langer is known for his special style combining Pop Music, Classic, Jazz and Latin in an exceptional way. His concert will be a surprise!
K3N
Double Concert: Björn Colell | Marcin Dylla
Björn Colell is a specialist for historical string instruments. His playing is so amazing that stars like Cecilia Bartoli and Philippe Jaroussky had him play by their side. The guitarist Marcin Dylla sets an interesting contrast with his colorful interpretations.
K3N
Midnight Concert: Doris Orsan & Johannes Tonio Kreusch
"Tangos & Canciones". It is inspiring to hear and see the Duo Kreusch (guitar) / Orsan (violin) interpret the Tango: it tingles, crackles and spurts with passion. Look forward to an atmospheric concert experience with the musicians Doris Orsan and Johannes Tonio Kreusch at a late hour!
K3N
Concert: Festival-Ensemble
The Festival-Ensemble 2018 conducted by Helmut Oesterreich and Mandy Bahle.
K3N
Final Concert: "A world star on 7 Strings"
Brazilian Evening with Yamandu Costa
The Brazilian guitarist Yamandu Costa conjures up guitar sounds as colourful and impenetrable as the Brazilian jungle. He grooves like nobody else and rockets the audience into a universe of Latin American rhythms. You feel the pure passion.
Kat. 1 36 € | 26 €
Kat. 2 27 € | 21 €
Kat. 3 22 € | 14 €